SimPact 4T-R pulse-jet filter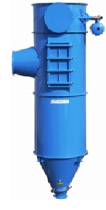 A cost-efficient, robust solution that gives you the benefit of high productivity and savings The SimPact 4T-R filter has a compact, cylindrical design and an efficient pulse-jet cleaning system. The filter housing and inlet zone are strategically placed in the various construction forms. This ensures a smooth flow of both coarse and fine particles into the filter.
Benefits
Efficiency
· The pulse-jet system automatically cleans the bags row-by-row even as the dust is being filtered. The advantage is that the filter continues to work for you while the bags are being cleaned.
Savings
· Being a low maintenance solution, the SimPact 4T-R needs minimum downtime. This means continuous plant operations for you.
· The filter control system helps maintain a low pressure drop – helping you save both compressed air and energy.
Flexibility
· You can separate almost any kind of dust ­– fine, abrasive or explosive. The flexibility in bag removal allows you to easily service the bags.
Features
· Capacity: 500 – 130.000 m³/h
· Filter size: 3,1 – 435,6 m² filter surface
· Standard 5% vacuum
· Pressure shock resistance: Up to 2,0 bar
· Works on both dry and sticky products
· Bag removal: via both clean and dirty air sides
· Complying with the ATEX directive
· Indoor installation with explosion vent following European standard EN14491 or the German guidelines VDI 3673.
More information: