About company
UAB Liucija is a successfully operating company established in 1991.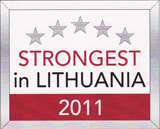 More strict requirements to environmental safety that are applicable since the Baltic States have joined the EU increase the need for the most innovative technologies, equipment and materials of high quality. Living and working in clean and safe environment, drinking clean water and breathing uncontaminated air have become one of the principles of full life for people.
UAB Liucija is a fast-developing company. It is specialized in the sales of industrial equipment which reduces air contamination, allows safe transportation, uploading and unloading of various bulk products into/from ships, wagons, vehicles, various containers, depositories.
We sell equipment and materials of well known manufacturers in international markets which comply with the needs of the users in various industrial branches.

Employees of the company are familiar with practical characteristics of the equipment, they attend training seminars organized by foreign partners on regular basis, they are provided professional consulting on any issue related to designing, installation, maintenance of the equipment.
WAREHOUSE SALE
We offer to purchase the already manufactured Simatek A / S (Denmark) industrial dust collection filters, which were intended for the Russian market, directly from the warehouse in Vilnius.
A unique opportunity to buy ready-made filters at attractive prices. Filters are delivered under DAP conditions. Please see full list of available filters.
General information about the proposed filters can be found here: Spot filters; Cyclone type pulse jet filters.
For detailed information, please contact us by email: info@firmaliucija.lt or by phone: +370 612 230 26.